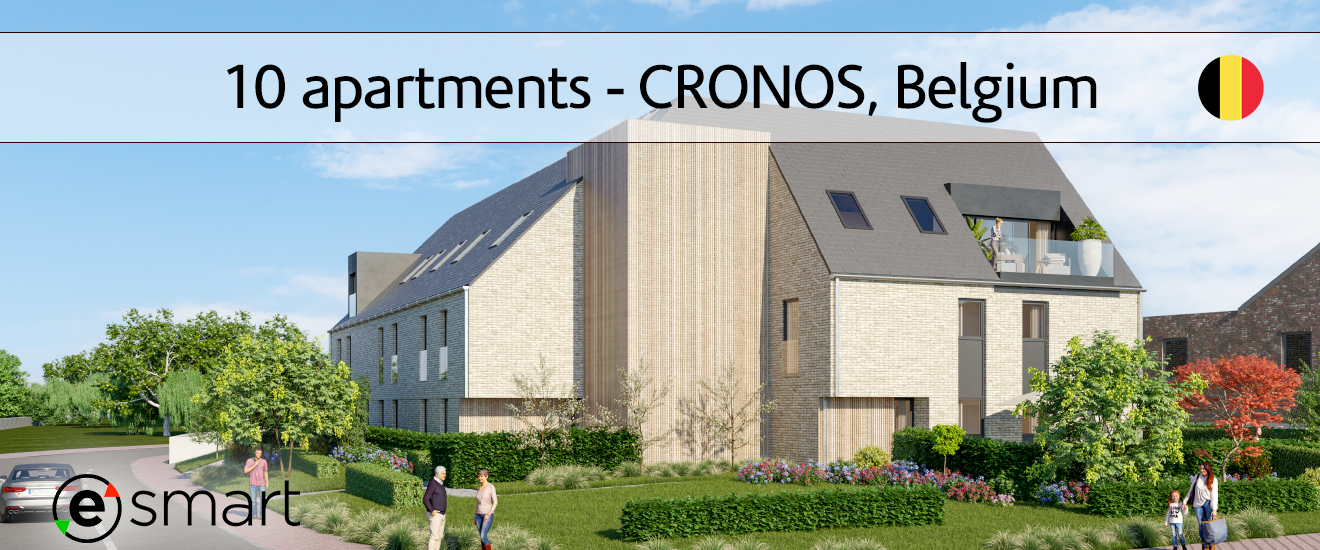 Près du centre de Tongres, V-Cool construit "CRONOS". Il s'agit d'un tout nouveau projet de haute qualité de 10 appartements de 2 chambres.
L'apparence élégante de "CRONOS" fait de ce projet résidentiel un excellent investissement pour l'avenir.
Les nombreuses fenêtres et les terrasses spacieuses offrent un maximum de lumière.
La finition est réalisée avec des matériaux de la plus haute qualité et répond à toutes les normes énergétiques actuelles.
Les appartements généraux sont équipés des technologies eSMART. Voici les principales caractéristiques du pack eSMART:
Vidéophone pour le contrôle d'accès sécurisé

Liens sociaux et communautaires

(informations de l'administration ou du concierge, prévisions météorologiques, transports publics, post-it virtuel, etc.)
Application gratuite de télécommande pour le smartphone (Android, Apple)
Affichage et suivi de la consommation d'énergie par appartement
En option:
Éclairage intelligent grâce aux modules optionnels d'eSMART. Il est ainsi possible de définir des ambiances, des actions et des scénarios afin de pouvoir contrôler l'ensemble de votre appartement.
La protection solaire intelligente permet de combiner les rideaux ou les écrans avec des scénarios d'éclairage ou de les ajuster en fonction de la position du soleil.
Contrôle individuel du chauffage pour chaque pièce
Le mode "Vacances" permettant de réduire automatiquement la puissance de chauffage lorsque vous vous absentez et de la régler à nouveau à votre retour.
Grâce à la fonction "tout éteint", vous pouvez mettre tout votre appartement en mode éco par simple pression sur un bouton. Toutes les lumières s'éteignent et le chauffage est baissé de quelques degrés. Ainsi, lorsque vous êtes absent, vous ne consommez pas d'énergie inutile.
Source : www.vcool.be/cronos

Vlakbij het gezellige centrum van Tongeren, bouwt V-Cool "CRONOS". Het is een gloednieuw project van 10 kwaliteitsvolle 2-slaapkamer appartementen.
Door de klassevolle uitstraling van Residentie "CRONOS" wordt dit woonproject een uitstekende investering voor de toekomst.
De vele raampartijen en ruime terrassen zorgen voor een maximale lichtinval.
De afwerking gebeurt met materialen van hoogste kwaliteit en voldoet aan alle huidige energienormen.
Algemene appartementen worden voorzien van eSMART Technologies. Hier zijn de belangrijkste functies van het eSMART-pakket:
Videofoon voor veilige toegangscontrole
Sociale- en gemeenschapsbanden (informatie van de administratie of de conciërge, weersvoorspellingen, openbaar vervoer, virtuele post-it, enz.)
Een gratis app voor de smartphone voor bediening op afstand (Android, Apple)
Weergave en monitoring van het energieverbruik per appartement
Optioneel:
Slimme verlichting via optionele modules van eSMART

. Deze maakt het mogelijk om sferen, acties en scenario's definiëren zodat u uw volledige appartement naar uw hand zet.

Slimme verduistering

, maakt het mogelijk om de gordijnen of screens in scenario's te combineren met verlichting of deze af te stemmen op de zonnestand.

Individuele regeling

 van de verwarming voor elke individuele kamer

De "Vakantie" -modus

 om automatisch het verwarmingsvermogen te verlagen wanneer u weg bent en dit weer aan te passen wanneer u terugkeert
Met de « alles uit » functie zet je met één druk op de knop je hele appartmeent op eco-stand. Dan gaan alle lichten uit en schakelt de verwarming een paar graden lager. Zo verbruik je bij afwezigheid geen overbodige energie.
Bron: www.vcool.be/cronos