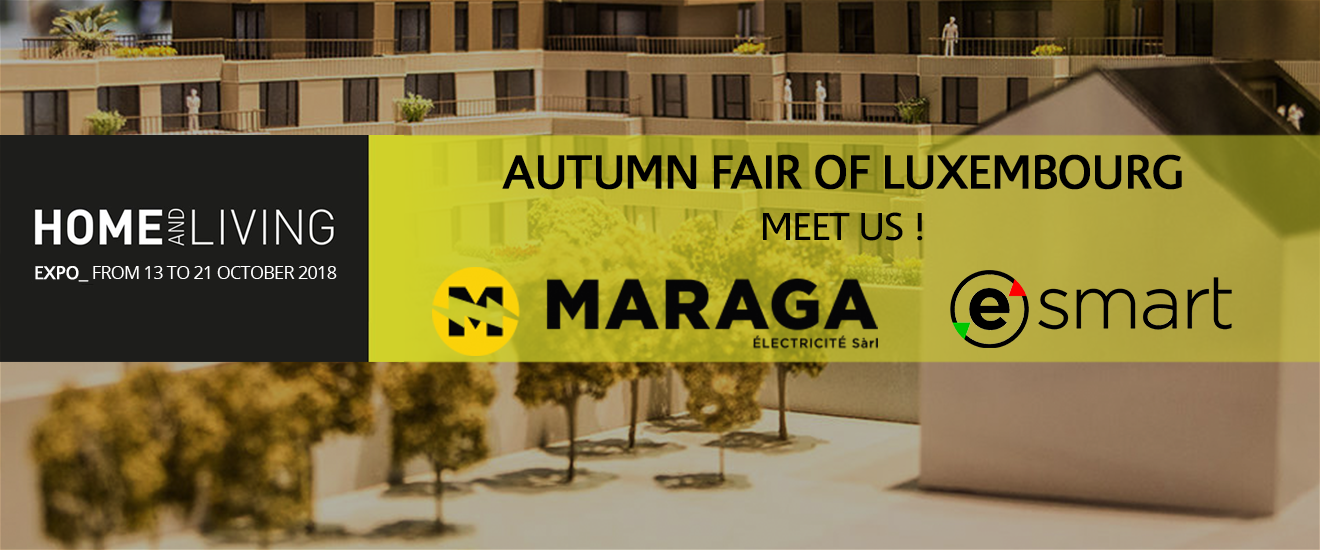 L'essentiel de l'habitat et tout ce qui va avec !
Du 13 au 21 octobre 2018 chez Luxexpo The Box
Lundi au vendredi 15h-21h / Samedis & dimanches 10h-19h
Indicateur de tendances et véritable boîte à idées pour tout projet du secteur de l'habitat, le salon Home and Living est organisé chaque automne par LUXEXPO THE BOX en étroite collaboration avec le Ministère du Logement, la Chambre des Métiers de Luxembourg et la Fédération Luxembourgeoise de l'Ameublement.

C'est le rendez-vous sur-mesure dédié au logement avec un focus sur la construction, la rénovation, l'ameublement et la décoration. Véritable concentré d'inspirations, le salon officie en tant que caisse de résonance de l'habitat, où les dernières tendances se fédèrent autour de workshops interactifs et d'évènements inédits !
Electricité Maraga, entreprise d'électricité générale située à Binsfeld au nord du Grand-Duché de Luxembourg est présente au salon et proposera un ensemble de solutions écologiques et fonctionnelles (Hall : 8 | Stand : 8D67). En partenariat avec la société eSMART, elle présentera également les solutions intelligentes eSMART pour un habitat connecté et automatisé.
Pour de plus amples informations :
10, Circuit de la Foire Internationale
L-1347 Luxembourg – Kirchberg
T +352 43 99 1
F +352 43 99 315
E info@thebox.lu
_____
Hall : 8
Stand : 8D67
Electricité Maraga
Bloumegaass 8 L-9946 BINSFELD
+352 24 51 47 00
info@electricite-maraga.lu