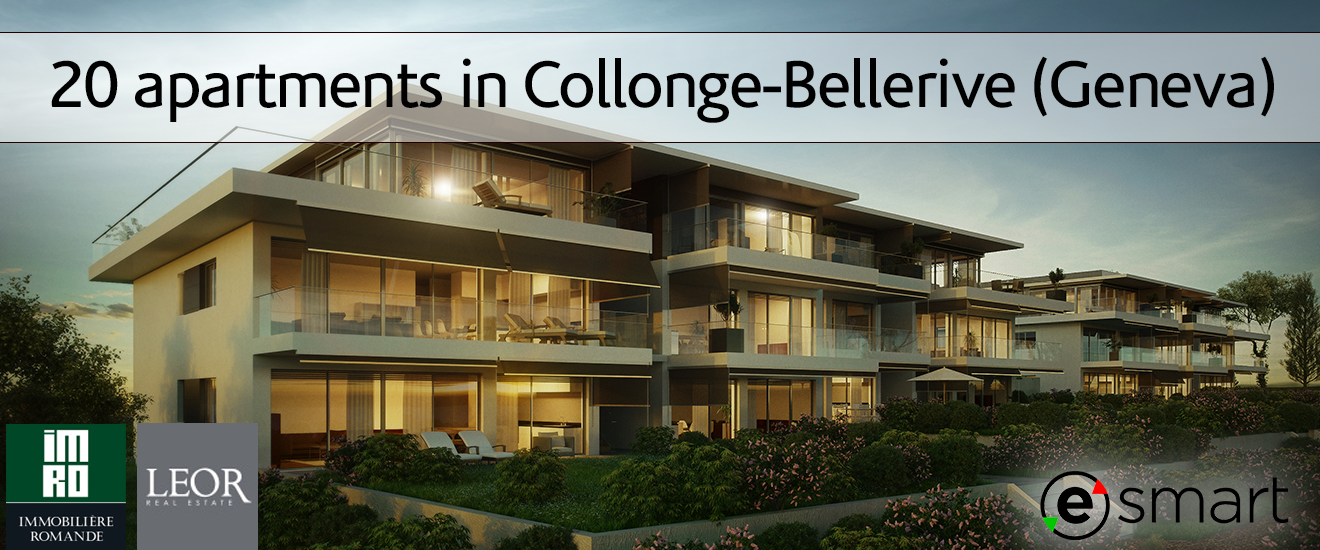 eSMART is pleased to renew its collaboration with Immobilière Romande IMRO SA on the impressive Les Trèfles project in Collonge-Bellerive, on the banks of Lake Geneva. eSMART has installed its intelligent home management system in 20 apartments in this property complex which is located in an unspoilt setting close to local amenities.

It includes two buildings each housing 20 condos (PPE).
– 4 x 98 m2 apartments   (4 rooms)
– 12 x 111 m2 – 122 m2 apartments (5 rooms)
– 4 x 178 m2 apartments (6 rooms)
The four top-floor apartments are equipped with full home automation. The comfort options included allow residents to program different scenes and manage lighting levels, when lights are turned on or off, or shutters opened or closed.
The other 16 apartments are furnished with eSMART-building, a practical and efficient solution which can be complemented with any of the options mentioned above.
Residents are now able to the enjoy the many benefits offered by the eSMART solution. One notable advantage is the reduction in energy consumption thanks to the remote management of heating, lighting and even shutters. The touchscreen tablet installed in each apartment allows them to manage their home simply and easily. Being able to access all the functions on a smartphone or tablet means they save both time and effort.
http://www.lestrefles.ch/
Additional information:
Location: Collonge-Bellerive, Genève
Date of construction: 2016
Features: videophone, heating, lights (all on, all off or mix), shutters and remote-controlled sockets.
Promoter:
L'Immobilière Romande IMRO SA
Place des Eaux-Vives / Av. de Frontenex 6
Case postale 6042 – CH-1211 Genève 6
http://www.imro.ch/immobiliere-romande/